Brainworks has recently announced a new expanded functionality to their Paywall module. The Day Pass will allow media companies the flexibility of charging for their content on a daily basis while also providing non-subscribers the opportunity to consume editorial when convenient for the reader.
This important new functionality meets the needs of publishers that are looking to further develop value for their content and drive revenue to those audiences that may not be looking to subscribe to the print edition or monthly content. This new audience focused feature is in addition to Brainworks' fully integrated paywall system and subscriber portal.
Cindy Bates, Director of Circulation Operations at Brainworks shared, "We are excited that our clients now have options to maintain a 24×7 relationship with their customers.  This allows their customers access content via any device at their convenience".
The Post and Courier, Charleston, SC is the initial development partner for this new technology and has gone live with the Day Pass. More information about this new offering to their readers can be found here.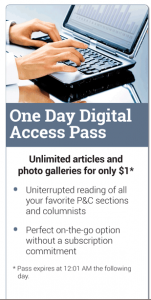 Photo credit: The Post and Courier, Charleston SC
About Brainworks
Brainworks Software is installed at over 1,000 North American newspapers over the past 25 years. Products include fully integrated advertising, circulation, ad production tracking and online proofing for print and online ads, billing, accounts receivable, contract and credit management, classified pagination, ROP ad layout, and a state-of-the art CRM system supporting Web, tablet, laptop, and Smartphone platforms. Brainworks customers include individual newspapers as well as publishing companies, which incorporate multiple products and divisions into a single database. Brainworks Software maintains offices in Sayville, NY, Wichita, KS and Belleville, Ontario, Canada.
Interested in learning more about Brainworks Paywall/Day Pass functionality? Connect with me, Contact information below:
Press Contact
631-963-5517
Nzuccaro@brainworks.com