All Island Media has joined other Brainworks customers like Durango, ImpreMedia and Janesville by recently announcing to their clients the new client portal that Brainworks has provided.  BWWA is a portal in which advertisers can login to see their history, statements, tear sheets, and make a payment.
Debbie Rumford, Accounts Receivable Manager at All Island Media stated, "AIM recently completed set up and testing on the Brainworks self-service portal for our clients.  The Brainworks team was fantastic to work with and what came back fit perfectly to our business model.  In initial testing with beta users, they found it to be user friendly and a fast way to make payments as well as view and print tear sheets without having to deal with envelopes and stamps.  They also appreciated the security of not having to share their credit card information. We are excited to roll it out live!"
 Phillip Giarraputo, A/R Support Manager and Software Developer at Brainworks shared, "It's great to see All Island Media using our BWWA product to create a client portal for their customers.  This puts account information, statements and e-tears out there on any mobile device for their advertisers and helps our customers by providing what they need for their continued success."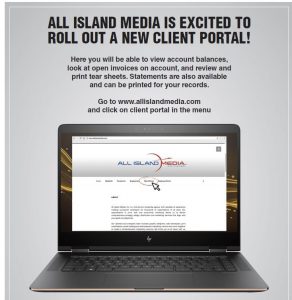 About Brainworks
Brainworks suite of media industry software products deliver in-depth operational and data-driven solutions designed to increase advertising and subscription revenues, simplify workflow processes, increase productivity and reduce costs. Brainworks Software has been installed at over 1,000 North American newspapers over the past 25 years. Products include fully integrated advertising, circulation, ad production/management and online proofing for print, digital and video, billing, accounts receivable, contract and credit management, classified pagination, ROP ad layout, and a state-of-the art CRM system supporting Web, tablet, laptop, and Smartphone platforms. Brainworks Software maintains offices in Sayville, NY, Wichita, KS and Belleville, Ontario, Canada.
 Press Contact
631-963-5517
Nzuccaro@brainworks.com